Managed IT Services For Texas Healthcare & Medical Practices:
AIM Services healthcare clients are spread all over the Texas map; including San Antonio, Austin, Houston, Dallas, Ft Worth, El Paso, Alpine, Corpus, McAllen, Harlingen, Brownsville, Beaumont. If your current IT service company is cutting corners, overcharging, not protecting or securing your medical practice data and network then you are a prime target for a ransomware attack and NOT HIPAA compliant.
CALL US NOW 800-275-1353
We are the computer solutions people, we can solve these problems. 

FREE GUIDE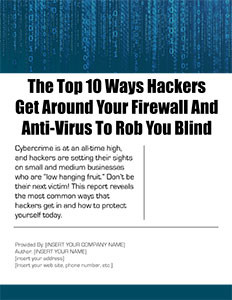 The Top 10 Ways Hackers Get Around Your Firewall And Anti-Virus To Rob You Blind
Call Us Today At

800-275-1353
As the CEO of AIM Services, I strongly believe that establishing close relationships with our clients from the initial concept to completion is a key element to reaching a successful solution.  We cultivate each client relationship with the intent and hope of maintaining a business relationship and trust years after the initial start of the project and long after completion.
We believe successful IT managed services is achieved through a positive experience, a working knowledge of today's best practices, and access to cutting edge technology.  We offer expertise that goes beyond state of the practice to include innovative solutions using techniques found thru extensive research and testing on our end.  We take a proactive approach to ensure our clients IT network and medical data is protected thus the success of their medical practice. Our success as well as our client's success requires that we consistently work to achieve mutual goals through integrated initiatives. We recognize that the keystone to our business is developing a long lasting client relationship based on the quality of services we provide.
We welcome your call or email to start the conversation regarding IT managed security services. That single contact may very well alleviate your concerns with the rising costs of your IT services and cyber security risk. I look forward to hearing from you.
Sincerely,
Don Harmeier, President
AIM Services, Inc.
See what our clients are saying about us…